Brown Coach Partners with VA to Treat Vets to a Yankees Game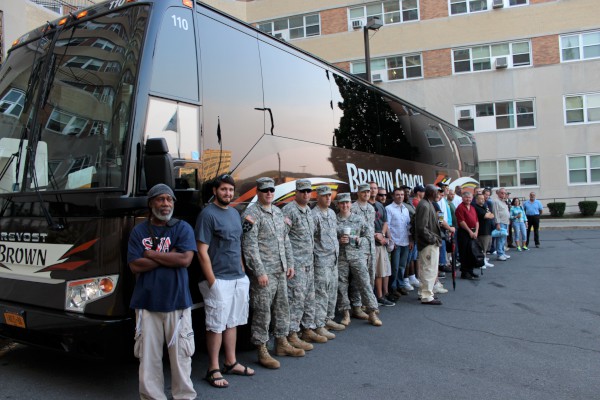 On Thursday August 22nd, Brown Coach provided the opportunity for 50 Veterans to go see a Yankees game free of charge. The trip included transportation, game tickets and a buffet.
Veterans boarded a bus at the Albany Stratton VAMC bright and early for the trip to see the Yankees play the Toronto Blue Jays. A generous donation from Brown Tours allowed for Veterans of various eras to come together for a fun filled day at the ballpark. Veterans spanning from the Vietnam War to the wars in Iraq and Afghanistan took part. The atmosphere of the trip was absolutely amazing. The Albany Housing Coalition joined in partnership, making a generous donation by providing a continental breakfast for the bus ride. From the outside, anyone would assume this group of people had been friends for years, when in fact, most of them had never seen one another before this day.